Looking to improve the quality of the food your commercial kitchen produces? Hoping to wow your customers' palates time and time again? A commercial salamander broiler does just that, providing a blast of heat "over-fired" and focused on the top of dishes. The commercial salamander is an ideal accessory for any kitchen to cook specialty dishes fully or add that memorable finishing sizzle to a customer's order.
In this comprehensive look at commercial salamander broilers, we'll cover the different types of salamander broilers and uses and benefits of adding this equipment to your kitchen
What Is a Salamander Broiler?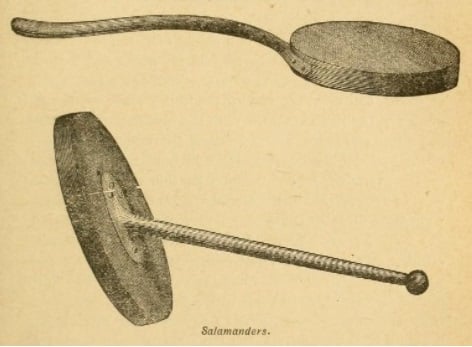 illustration courtesy of "Miss Corson's practical American cookery and household management." by Juliet Corson, Open Library is in the Public Domain
Today's ovens are much more sophisticated, but the same general principle applies – creating a high blast of heat that can be used for different cooking techniques in a short amount of time. One of the main difference-makers is in the source of energy used to provide the quick-flash cooking those salamanders are known for.
The two main choices when it comes to heating elements for commercial salamander are ceramic or infrared.
Ceramic heat is usually more evenly distributed within the baking chamber. That heat remains within the baking chamber. It is often the preferred choice, especially in smaller establishments and those looking to keep costs down, especially as an initial investment.
Infrared is a more targeted approach, delivering a more intense and focused heat. An infrared broiler uses heating elements that heat up quickly, which can be crucial in fast-paced kitchens. It is a preferred option for those kitchens that need to generate high volumes of meals.
Gas-operated salamanders are another option, offering convenience for kitchens with gas hookups that prefer all their equipment to feed off a main gas line.
Some kitchen salamanders also use conventional electrical energy. However, these models are often slower, requiring more time to warm up.
What Are Salamander Broilers Commonly Used For?
Commercial kitchen salamander broilers are a versatile tool that has many uses in a modern kitchen. Whether used as a professional steak broiler or to melt the sugar on the top of a crème brûlé, the salamander is a great addition to any kitchen.
In many cases, kitchens use the salamander to put that perfect finishing touch on a plate of food, whether that means to brown a dish, add a glaze, create caramelized covers or melt cheese. The salamander can also be used to grill meats and vegetables or toast bread or a side dish.
The commercial salamander broiler is often thought of as a finishing device, used to put a final touch on an order.
It can be used as a pass-through device that connects chefs with servers. Browning and melting typically takes just seconds and the salamander helps with providing expediters with hot food that retains its temperature from kitchen to table.
You'll want to be sure to train your wait staff on how to safely use the salamander. And while "pass-through" is the phrasing used, in most cases there are not back doors available. While some have open sides and open fronts, and even a back door, you'll want to be very careful about setting procedures and making sure that combustible materials are not nearby.
Creative chefs use kitchen salamanders for all kinds of techniques, including as an infrared steak broiler. When kept at a low temperature, your kitchen salamander can be used to keep food warm, keeping products held and toasty while other parts of a meal are being prepared.
What to look for in a Salamander Broiler
Before you go shopping for a commercial salamander, you'll want to answer a few questions and think about how to best place the equipment in your kitchen. Here are a few things to consider:
Usage. What will you be using your professional salamander broiler? If it's primarily for melting cheese on pub nachos or browning a crock of French onion soup, a smaller model can suffice. If it's going to be used for lots of sizzling broiled entrees, you'll want a larger model and one that has the heat source to meet your demand.
Placement. Space is always a consideration in a commercial kitchen. Having the right-sized equipment will help you manage energy costs, however, with a salamander grill don't skimp on functionality just for the sake of energy concerns. If you buy a salamander that's too small, you run the risk of a bottleneck, which can be a disaster, especially for high-volume kitchens. Close proximity to a range is ideal, and Vulcan maximizes the temperature control including dual temperature zones within a counter, range, or wall-mounted 36" width.
Once you have a good handle on usage and placement, you're going to want to pay attention to quality. For salamanders, it's about the design, mounting and functionality. A removable spillage pan is a must for easy cleaning. If you are feeling cramped for range top space, a dependable salamander can free up under-fired equipment as a preferred option for many dishes.
Many commercial kitchen salamanders are wall mounted or mounted on the rear shelf of a range. That allows cooks to actively monitor the progress of meals; because of the high heat a dish can turn from warmed to burned in a few seconds. If only your chef is going to use the salamander, this is an ideal choice.
Salamanders come in many styles. There are standalone models that can be placed directly on countertops. There are even larger, double salamanders that are freestanding units, which are popular in situations where there is a high degree of reliance on the salamander for multiple cooking situations. Whether it's a countertop salamander broiler, or a single-deck or multi-deck standalone model, there is a broiler to meet your kitchen needs.
Standalone models, however, often require a large footprint in your kitchen. You'll also want to make sure there's enough space for staff to pass safely around it. One note: If your kitchen will be doing all-day broiling, a standalone model is probably the right choice.
What Not to Cook in Your Commercial Salamander
A word about plateware. You want to be sure to use the correct serving dishes in your salamander to avoid dangerous disasters. Always use dishware that's labeled as broiler-safe. Good choices are metal plates and bowls and cast-iron skillets or other wares.
Another important safety consideration is grease. Commercial salamanders will produce small grease particles that get into the air. Proper ventilation around your salamander is a must.
No matter what style you choose, you'll want to have a good sense as to the configuration and measurements of your kitchen and know where the power sources are available.
Differences between a Cheesemelter and a Salamander Broiler
Many chefs may be tempted to ask, "Do I really need a salamander?" and "Why don't I just get a cheesemelter?" Cheesemelters really are only suited for one task – melting cheese. They're usually mounted on the back of a range and consist of just a small oven rack and a crumb tray.
With a small temperature output, a cheesemelter is good for making open sandwiches, firing up nachos or browning an au gratin dish. They can be used for hors d'oeuvres, desserts and reheating. However, they're limited in functionality and size.
A cheesemelter is built to act as a finishing oven. The radiant heat they produce is typically used only on already cooked dishes. There's only so much a cheesemelter can do.
By contrast, a salamander can do everything a cheesemelter can do and more. Its higher range of heat gives it versatility and much-needed speed, especially in busy commercial kitchens.
With its focused heat and top-down broiling action, a salamander is ideal for broiling meats and raising the temperatures of rare cuts. They can also be used to add a top layer of brown to casseroles and other dishes or as a rotisserie to cook roasts or poultry on a spit. Many models include metal racks that can leave grill marks, a grate that can be slid into the salamander and a removable grease tray to capture any mess.
Vulcan offers commercial salamander broilers as the best option for most kitchens.