Back to Braising Pans
What Sets Vulcan Braising Equipment Apart?
Vulcan Braising Pans were built with durability and performance in mind. Vulcan units offer watertight controls for improved reliability and the skillets' coved corners and bead-blasted finish provide for a more effective cleanup.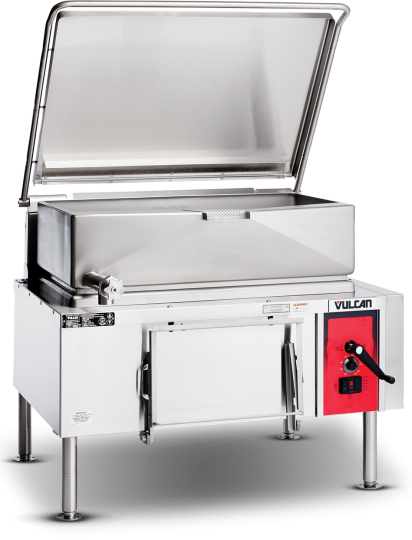 4" Full Width Pour Lip
Food won't spill out over the top costing your restaurant time and money - no waste occurs as 100% of the pan is emptied.
Embossed Gallon & Liter Markings
Unlike "etched" markings that will scrub away over time found on other equipment, the "embossed markings will endure the life of the unit.
Retractable Pan Support
Standard receiving support pan mounts under pouring lip and conveniently drops away when not in use.
Vulcan Braising Pan Features
Draw Off Valve
Ideal for removing waste with catch can to facilitate draining waste.
Steam Inset Pan
Steam vegetables and more in large capacity steam pans.
Heavy Duty Cover
Sturdy high strength cover resists warping and is spring-assisted to stay open in any position.