Back to Combi
What Sets Vulcan Combi Ovens Apart?
Not just a Steamer. Not just a Convection Oven. Experience more versatility in your kitchen with a Combi Oven. You can bake, steam, roast, air-fry, retherm, proof, finish, poach, stew, low-temp and defrost all in one piece of equipment. Whether cooking beef wellington or baked potatoes, Vulcan Combi Ovens gives you all the functionality you need to get the results you want--all in an oven that anyone can just walk up to and start using. It's combi cooking made easy!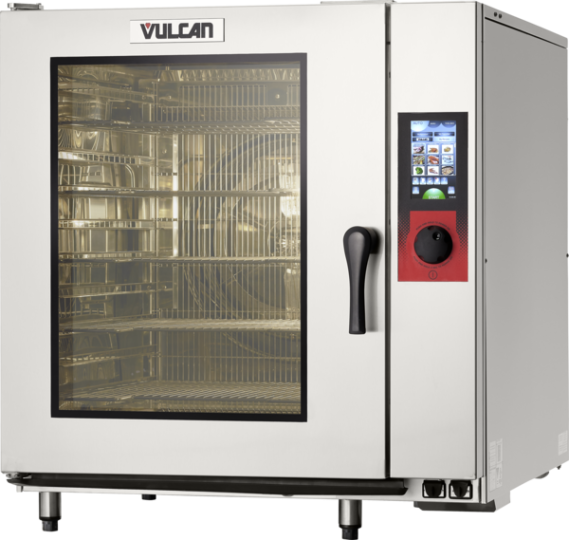 Simple, Intuitive Controls
Combi cooking can get confusing with all the modes. Vulcan's makes it simple with easy to use controls. Our ABC7 has three knobs to set temperature, time and humidity. Our Minijet™ offers touchscreen in addition to knob controls that are intuitive, quick and easy to manipulate. It's combi cooking at its best.
Automatic Humidity Control
Don't know what humidity level to choose in combi mode? No problem. Just set the temperature and the humidity level will automatically adjust to the proper level so that you will always be in combi mode.
Grab-and-Go Oven Racks
Standard on all of our ABC7 Combi Ovens, Vulcan's oven cutout rack design allows for easy, safer retrieval of hot pans.
VULCAN COMBI FEATURES
Alerts
The flashing LED lights & audible alarm alert user when cooking cycle is finished
Auto-Reversing Fan
Vulcan's auto-reversing fan with speed control adjustment increases efficiency and minimizes operating downtime
Timer
The timer reloads for batch cooking after completion of timed cycle, simplifying your operation
Vulcan Combi Oven Cooking Demonstrations