Back to Fryers
What Sets Vulcan Fryers Apart?
Fryers from Vulcan set the standard for ease-of-use and time-saving convenience. Designed to meet the volume needs of many different types of operations, including independent restaurants, supermarkets and stadiums, our product portfolio boasts gas and electric fryers available in multiple battery configurations. ENERGY STAR® certified models available.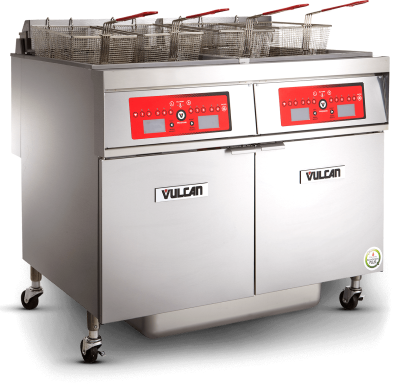 Control the Controls
Vulcan offers four different fryer control systems to meet your operational needs. The most basic control is snap action/standing pilot and includes millivolt controls. No electronic connection required for operation. A step up from snap action is solid state. This premium control allows operators to set the exact temperature within two degrees and includes analog, digital or computer controls. Solid state controls require 120V.
Built-in or Portable?
Select the filtration system that is right for your operation. Many of our fryers offer a built-in filtration option, KleenScreen PLUS(R) Filtration. This system extends oil life, lowers operating and oil costs and improves ROI. The alternate method is our portable filtration unit, MF-1. This mobile filter provides easy filtering, simply roll up to the fryer when ready to use.
Scale Up Production with a Battery of Fryers
Configure your fryer workspace by selecting from freestanding fryers or design a battery of fryers, up to four units connected together.
Bang Bang Burger Turns to Vulcan to Handle Increased Business
3 Benefits of Vulcan Fryers
Save Money with ENERGY STAR® Certified Fryers
Many of Vulcan's fryer models are ENERGY STAR certified - meaning they are eligible for a rebate at time of purchase and the lifetime operational costs will be less than a standard fryers.
Optimize Back-of-House with a Countertop Fryer
Vulcan's Countertop Electric Fryer (CEF) offers the exceptional cooking performance of high-efficiency electric floor models, but in a convenient countertop design. Set on a refrigerated or freezer for point-of-use product storage.
Vulcan's Patented ThreePass™ and FivePass™ Heat Transfer Systems
Available in the PowerFry3™ and PowerFry5™ fryers, these systems harness energy more efficiently to deliver greater throughput and shorter cook times.