Back to Steamers
What Sets Vulcan Steamers Apart?
Vulcan steamers are your one-stop shop to producing healthier, fresher food in less time. With a range of sizes to fit every operation and innovative features targeted to making life easier in the kitchen, Vulcan delivers. Couple energy effiency with reduced filter and scale maintenance and see the benefits of Vulcan steamers reach your bottom line.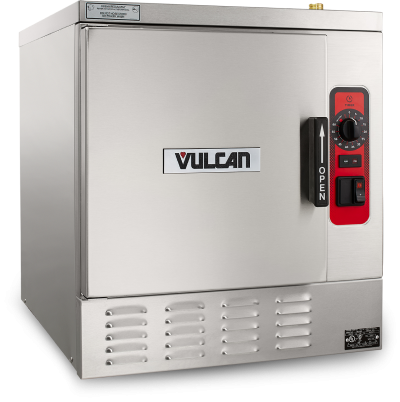 Industrial-Strength Peace of Mind
If you're cooking with steam, you're dealing with scale—until now. Using new ultrasonic SonicSafe™ technology, Vulcan has integrated automatic scale prevention inside our line of electric generator-based steamers. Never worry again about a forgotten filter causing fatal scale buildup
Extreme Water Savings, Amazing Steam Power
Save money, earn rebates and never sacrifice cook time with Vulcan's powerful C24EA-LWE Series Steamer. It's the first and only ENERGY STAR® qualified electric à la carte counter steamer, designed to conserve water usage by up to 90% compared to traditional models.
A Steamer for Every Footprint
When floor space is at a premium, Vulcan countertop steamers offer a solution. These electric and gas countertop steamers are ideal for a variety of foods, including vibrant veggies, succulent seafood, and perfectly cooked proteins. For larger kitchens that require a high output, Vulcan's 10-pan floor steamers deliver fast cooking times, ease of use and spectacular results.