Back to Broilers
What Sets Vulcan Broilers Apart?
Vulcan broilers are a must for today's busy foodservice operations, and Vulcan's radiant and infrared broilers set the standard thanks to features like dual heat controls for improved temperature control during zone cooking, stay-cool controls, a full-width spillage pan, and many others.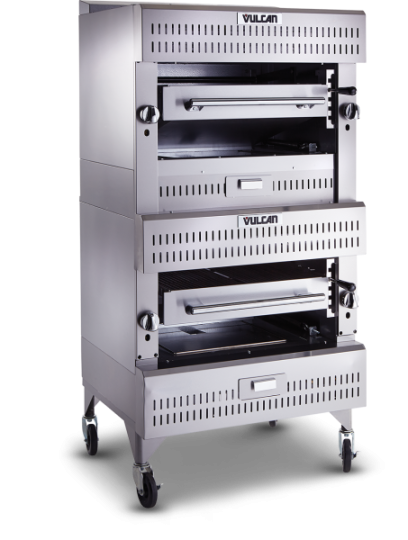 Bringing the Heat
At temperatures up to 1000°F, Vulcan's commercial broilers are your head start to an exceptional finish. When orders are stacking up in your restaurant, our broilers ensure rapid recovery times for maximum productivity. Available with infrared or ceramic broilers with a variety of bases, they're sure to fit any kitchen operation.
Powerhouse Combinations
Customize to fit your operation's needs by combining a broiler deck with a standard or convection oven, refrigerated base or cabinet base.
Heavy Duty Construction
Rugged stainless steel construction makes Vulcan broilers designed for heavy duty use in any busy, high output kitchen. Make your menu sizzle and your profits soar.