Back to Fryers
50lb VEG Series Gas Freestanding Fryer
Model: #VEG50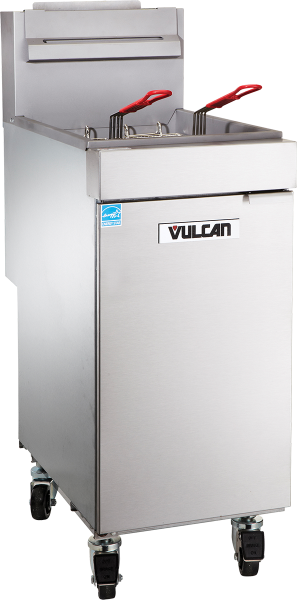 Hefty gas bills are a thing of the past when you choose this ENERGY STAR® certified fryer
Save time during the lunch rush without sacrificing on quality. Cook more food in a shorter amount of time with the 50 lb tank size
Perfectly crispy chicken tenders, golden fries and delectable onion rings are what's on the menu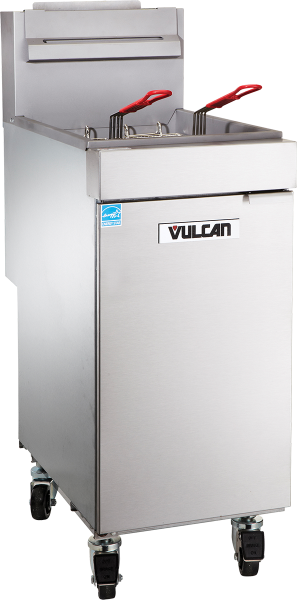 50lb VEG Series Gas Freestanding Fryer
Model: #VEG50
Dimensions( W x D x H): 15 1/2" x 29 3/4" x 34 5/8"
Total Oil Capacity: 50 lbs.
Power Source: Gas (Natural Gas)
BTU/hr: 85,000
Number of Tanks: 1
Tank Size: 14" x 14"
Battery: 1
Controls: Millivolt Controls
ENERGY STAR® certification offers restaurants unprecedented efficiency and value
Efficient fryer that uses less gas without sacrificing production rate when compared to a standard economy fryer
Long-lasting, easy to clean stainless steel fry tank and front
Designed to be versatile and used in nearly any location — no electrical hook-up required
No electrical hook-up required for the ultimate portability, versatility and flexibility
Behind the door millivolt thermostat control adjusts from 200 to 400°F with standing pilot
5-year limited tank warranty
50lb VEG Series Gas Freestanding Fryer
Model: #VEG50
50lb VEG Series Gas Freestanding Fryer
Model: #VEG50
Casters 6" adjustable – 2 locking, 2 non-locking
Stainless steel tank cover – doubles as a work surface top
Connecting kit(s) – connect two fryers together (banking strip, brackets, and hardware)
Crumb screen mesh – with handles
Single large basket – 13"w x 13 1⁄4"d x 5 1⁄2"h
Extra set of twin baskets – 6 1⁄2"w x 13 1⁄4"d x 6"h
FRYMATE-VX15 add-on Frymate™ Dump Station
10" high stainless steel removable splash guard
Flexible gas hose with quick disconnect
50lb VEG Series Gas Freestanding Fryer
Model: #VEG50
50lb VEG Series Gas Freestanding Fryer
Model: #VEG50
Available for Quick Ship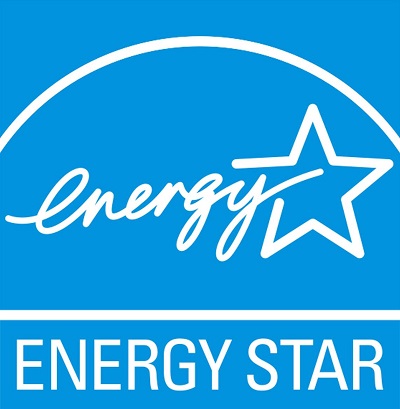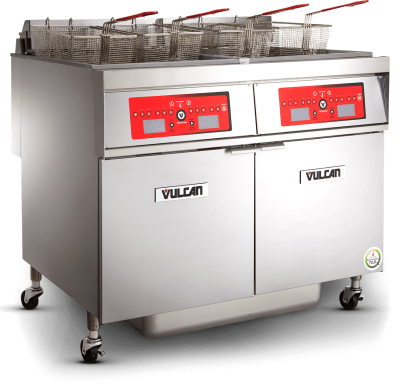 Why Vulcan Fryers?
Our innovative fryers are easy to operate and maintain, maximizing productivity and minimizing your restaurant's operational costs. With faster recovery, they're designed to be the most profitable pieces of equipment in your commercial kitchen. The best part? Many models are available for immediate shipment.
The Fryer Buying Guide
No menu is complete without the element of tasty fried foods, but how do you choose the right fryer for your menu? Our guide can help.
Fryer Accessories
Trouble-Free Adjustable Casters-2 Swivel Non-locking and 2 Swivel Locking
Stainless Steel Tank Covers
Vulcan Fryer Boil Out Demo
Beauty + Function
Fresh, fragrant, exquisitely-fried food. No matter the batch or hour of the day—if it's prepared in a Vulcan fryer, your guests will love it.