Back to Griddles
What Sets Vulcan Griddles Apart?
Vulcan continues to be the industry leader with griddles that are packed with performance features enabling operators to continue serving great-tasting menu items with reliability, flexibility, ease of use and speed.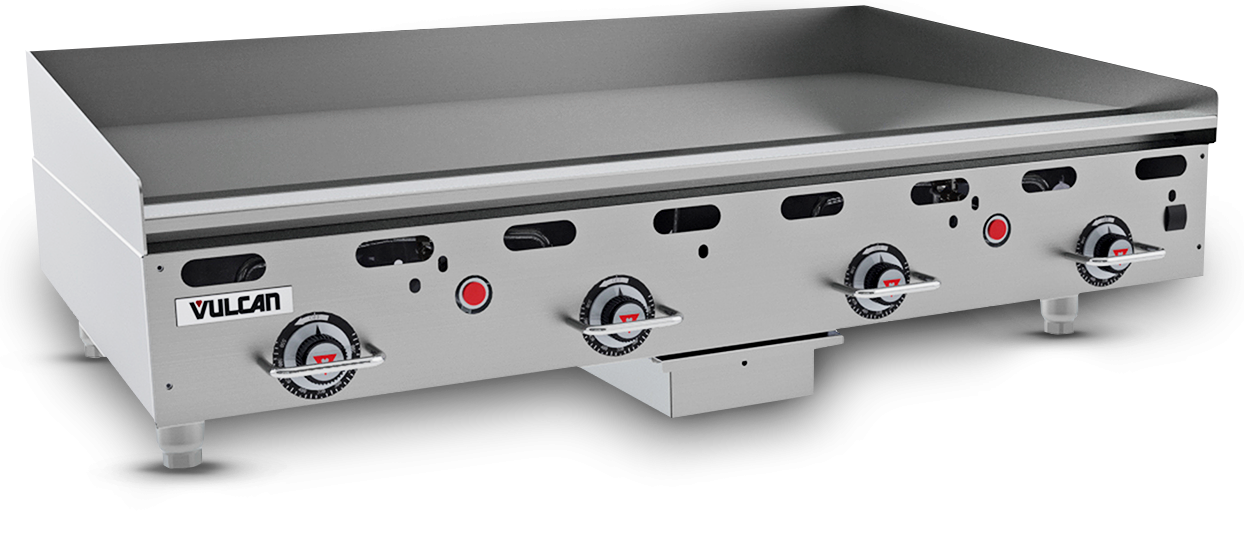 Choose the Right Plate for Your Needs
Whether you are seeking a reduction in cook times, more even heating, improved cleanability or a griddle fit for a display kitchen, Vulcan has you covered. Select from three griddle plate materials: our exclusive Rapid Revovery(TM) plate with an aluminum core and 304 series stainless steel exterior, heavy duty Chrome or traditional Steel. Grooving available on Steel plates.
Experience Productivity with Vulcan's Manual Clamshell
Cook product easily and efficiently with the heavy duty electric Vulcan Manual Clamshell (VMCS). Batch cook menu items like panini sandwiches, quesadillas, burgers, chicken, and bacon faster than ever. With customizable options and a sleek design, it's the perfect solution for any operation looking for faster cook times or high-volume batch cooking in a small footprint.
Customize Your Griddle with Ease
After you've selected your plate and burner type, optimize your griddle workstation even further by customizing with plate dividers, an extended back splash, plate rails, condiment rails, cutting boards, and more.
Features
Save Money with ENERGY STAR(R) certified VCCG griddles.
In addition to saving money on your monthly utility bill, you will also enjoy improved uniformity of temperature across the griddle plate and a higher production capacity. Plus, rebates may be available at time of purchase.
Pilot Protection System
Available on thermostatic griddles, valve completely shuts off gas to pilot and burners if pilot extinguishes or gas supply is interrupted.
Exclusive Rapid Recovery(TM) Composite Griddle Plate
Transfers heat 5x faster than a traditional Steel plate.