Back to Griddles
72" MSA Series Flat Top Gas Griddle
Model: #MSA72

Are you out of floor space, but not out of ideas for new menu items? This 72-inch low profile gas griddle will sit on your countertop or refrigerated base and never let you down.
Get creative with your offering. Aerpas? No problem. Fill them, press them, flip them, finish them. This griddle gives you room to play.

72" MSA Series Flat Top Gas Griddle
Model: #MSA72
Dimensions (W x D x H): 72" x 33" x 15 1/4"
Power Source: Gas (Natural or Propane)
Embedded snap action thermostat provides durability and precise griddle temperature control from 200°F to 550°F on Steel or Chrome plates. Temperature adjusts from 200°F to 450°F on Rapid Recovery™ plate.
27,000 BTUs per 12" section, U-shaped steel burners
1" thick steel plate, 24" deep (also available in 30" deep)
1 supervised pilot safety valve for every 2 burners; valve will completely shut off gas to pilot and burners if pilot extinguishes or gas supply is interrupted
Cool bull nose design keeps the grill front rail cool to the touch at all times
3/4" rear gas pressure regulator supplied with the unit. Supports either natural gas or propane gas.
Fully welded stainless and aluminized steel chassis frame
11" low profile cooking height on 4" adjustable legs
Spatula wide 3½" grease gutter and chute is fully welded for easier cleaning and to stop grease migration
Two large 6 quart stainless steel grease drawers
Heavy duty chromed thermostat knob guards
Vulcan Clamshell compatible
One year limited parts and labor warranty
All Vulcan Griddles are designed to be used on refrigerated, freezer bases or equipment stands
Standing pilot ignition system
72" MSA Series Flat Top Gas Griddle
Model: #MSA72
72" MSA Series Flat Top Gas Griddle
Model: #MSA72
72" MSA Series Flat Top Gas Griddle
Model: #MSA72
Full or partially grooved griddle plate (steel or chrome plate only)
Rapid Recovery™ griddle plate (200-450°F controls, 48" maximum length)
Hexavalent chrome plated cooking surface
30" deep plate (steel plate only)
Stainless steel stand with marine edges and casters
Cutting board, condiment rail, plate rail and banking strip accessories
Correctional Facility griddle security package
72" MSA Series Flat Top Gas Griddle
Model: #MSA72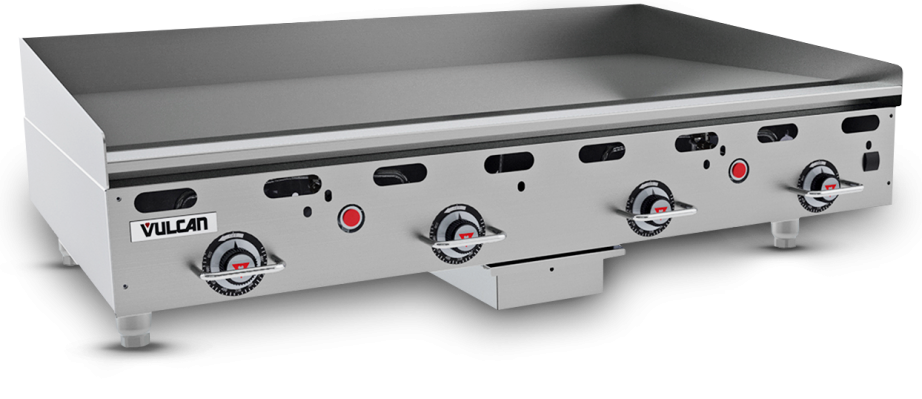 What sets our Griddles apart?
From customizable griddle cooking platforms for commercial restaurants to plug-and-play models for hotels and stadiums, Vulcan offers a wide range of gas and electric countertop griddles to meet any foodservice's unique operational needs. Our griddles exclusively feature innovations like Rapid Recovery™ composite plate material for increased production and IRX™ infrared burner technology to reduce gas spend in any industrial kitchen.
Which griddle plate is right for me?
Use our comparison chart to choose the best griddle plate for your kitchen.
Vulcan 900RX Series and MSA Series Griddle Operational Demo
Beauty + Function
Crispy, fluffy, chewy—griddles produce delectable, memorable textures. Vulcan griddles are your palette and canvas for recipes of any size or quantity.