Back to Combi
Stacked 4 Pan Minijet™ Electric Boilerless Combination Convection Steam Oven
Model: #MINI-JET Stacked

You shouldn't be deprived of great electric combo cooking just because you're short on hood space, should you?
UL certified as ventless using built-in technology to eliminate grease-laden effluents
Can be outfitted directly with a single condensate hood adequate for the stacked pair wherever additionally required.
So you won't need a huge kitchen or an advanced training course in combi cooking to make Bavarian pretzels — or farmhouse loaves — that melt in the mouth and look as delicious as they taste.

Stacked 4 Pan Minijet™ Electric Boilerless Combination Convection Steam Oven
Model: #MINI-JET Stacked
External Dimensions (W x D x H): 20 5/8" x 33 1/2" (37" with handle) x 70.56"
Cavity Dimensions (W x D x H): 15 1/8" x 24 1/2" x 12 3/4"
Hotel Pan Capacity of (8): 12" x 20" x 2.5"
or (12) 12" x 20" x 1" pans
Power Source: 208v/60/3 standard with 6' cord and L15-30P NEMA plug. Field convertible to 208/60/1, 240/60/1, or 240/60/3
Door can be hinged on left or right side
User Interface including Manual displays for ABC, JET or ECO operator functions. ABC automatically adjusts humidity after setting temperature. ABC & JET features always on function, no start button to activate. JET for manual convection, steam and combi settings. ECO for required start button activation providing maximum energy savings.
AUTO Interface featuring 80+ preloaded and programmable recipes with text or picture display. Additional AUTO options with My Recipes, My Favorites, Multi-Level Shelf Timers and MultiProduct interface functions
Toolbox for Manual or Auto Cleaning wash system, custom settings for user personalization, visual interactive service diagnostics, and operator instructions with video training directly from LCD display
PC Software available for free download that matches machine functions allowing for transfer of recipes, photographs and profiles via USB
Stacked 4 Pan Minijet™ Electric Boilerless Combination Convection Steam Oven
Model: #MINI-JET Stacked
Stacked 4 Pan Minijet™ Electric Boilerless Combination Convection Steam Oven
Model: #MINI-JET Stacked
MINI-STAND Equipment Stand, (2) shelves, adjustable feet with floor flange brackets, stainless steel
MINI-PROBE3 Multi-Point Food Probe
MINI-RACK Wire Racks, 12"x 20", set of (3), stainless steel
MINI-SPRAY Spray Hose Kit, manual (includes plumbing connections, spray hose & mounting bracket)
MINI-RGDUAL - Rack Guide Kit, holds (4) half size sheet pans 13" x 18" x 1" or (4) 12" x 20" x 2 1/2" steam pans, includes left and right rack guides and (4) stainless stell racks with Grab-and-Go cutout
MINI-HOOD Vapor Condensing Hood for Double Mini Jet, KNLZ ventless approved (Used only with Mini-Stack2)
STACK-MINI/CONV - Stacking Kit, for 1 or 2 Minijet Units on top of VC4 Convection Oven, Includes Casters (Note: Verify Door Hinging Needed on Minijets)
MINI-STACK2 V2 Units Duo Stacking Kit, for 2 Minijet units, 13-3/4" stainless steel stand
Stacked 4 Pan Minijet™ Electric Boilerless Combination Convection Steam Oven
Model: #MINI-JET Stacked
Hollow Carbon Filter System - Good (Suggested Minimum):
CB15K-SYSTEM – 15,000 gal. (carbon only treatment)
CB30K-SYSTEM – 30,000 gal. (carbon only treatment)
Water Softening - Better (Carbon CBK System Required)
WS-40 - 40 lb. capacity (hard water treatment)
Reverse Osmosis System – Best
V3MRO-1 up to 100 gpd capacity, single unit
V3MRO-2 up to 200 gpd capacity, double unit
Second year extended limited parts and labor warranty contract
Stacked 4 Pan Minijet™ Electric Boilerless Combination Convection Steam Oven
Model: #MINI-JET Stacked

VULCAN
MINIJET™
SIMPLE
Easy to use with control touch and knob
SMART
Done-for-you settings take complexity out
SMALL
Full combi performance in a compact size
THREE DISPLAYS. ONE FOR EVERY LEVEL OF EXPERIENCE.
Entry Level Users
You want customers to keep coming back for consistently tasty products. But keeping responsible staff on board is a challenge, and training is an ongoing struggle, especially for those who have never cooked before. With your complete menu of products displayed as pictures, all staff has to do is press a button, and you'll get reliable results every time.
Auto: Preprogrammed Ease
Create and save custom recipes, and simply touch a picture of the item you want to cook.
Preloaded with common recipes
Upload custom recipes via USB
Display only your favorites for quick access
Experienced
You take pride in preparing great tasting meals for people. But in your busy kitchen, the last thing you have time for is learning how to use a complex piece of equipment to do it. Take advantage of the speed, precision and versatility of combi cooking with the Minijet's™ easy-to-understand ABC operation.
abc: as simple as it gets
With Vulcan's exclusive ABC display, operators choose the temp + time, and the optimal humidity level is automatically set. It's combi cooking at its easiest. No need to worry about extra settings or staff stopping workflow for assistance.
Immediate confidence and zero frustration for operators
Training in minutes, not days
Keeps your kitchen productive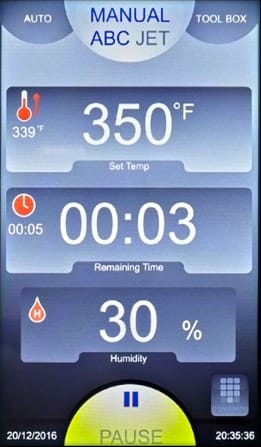 highly skilled
With years of experience, you're a leader in one of the busiest and hardest industries in America, and you don't take shortcuts. There's artistry to what you do. Choice ingredients are your palette, and the Minijet™ is your arsenal of brushes. Everything you need to execute your vision is right at your fingertips— all in one hard-working piece of equipment.
jet: more control when you need it
The JET display lets you manually change settings on the spot, so you can use the oven exactly how you want.
Choose convection, steam or combi cooking
Set your desired humidity level and adjust fan speed
Cook with food probe to your desired temp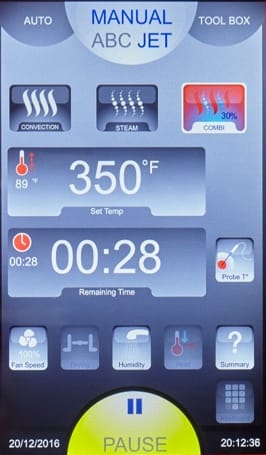 vulcan minijet™
DESIGNED TO Be YOUR KITCHEN'S MVP
Algorithm
Optimal Humidity Settings
Humidity level control automatically adjusts after setting temperature in ABC display.
Taking the guesswork out of the combi cooking to get the most from your most versatile piece of cooking equipment.
Control
Exclusive Twin Control
Intuitive use with both a knob and a touchscreen.
Quick and easy to manipulate, even when wearing gloves.
Simplify combi cooking using the essential settings.
Simply set the temperature and time to attain the speed, precision and versatility of combi cooking.
Small
Small size, zero clearance
Get the cooking performance of a combi oven in a compact package.
Free up space to maximize your work area, and do more with less equipment.
Recipes
Touch-N-Go recipes
Picture based selections for preprogrammed recipes.
Make it quick and easy for entry level operators to achieve repeatable results for quality output.
Beauty + Function
With stacked Vulcan Minijet™ Combi Ovens, the versatile capabilities provide continual production value for any menu with as little footprint imaginable.